The Week is an Indian newsmagazine published by The Malayala Manorama Co. Ltd. The magazine is published from Kochi and is currently printed in Delhi, Mumbai, Bangalore and Kottayam. According to the Audit Bureau of Circulations, it is the largest circulated English newsmagazine in India.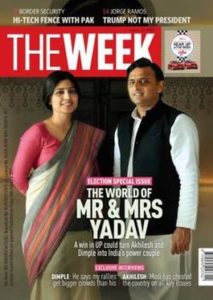 Chief Editors
The Week was launched by The Malayala Manorama Co. Ltd in December, 1982, and has had two chief editors, before the designation was discontinued.
K. M. Mathew (Padma Bhushan,1998), the founder chief editor, remained in office until 25 December 1988. Popularly known as Mathukuttychayan, he was chairman of the Press Trust of India, president of the Indian Newspaper Society and chairman of the Audit Bureau of Circulations. He died on 1 August 2010. The obit which appeared in The Times of India said, "The highly acclaimed English news magazine-The Week-was his brainchild."
K. M. Mathew's eldest son, Mammen Mathew, (Padma Shri, 2005), took over on 1 January 1989, and continued until 9 December 2007. He is currently chief editor of the Malayala Manorama daily, the group's flagship publication.
Currently, The Week does not have a chief editor. K. M. Mathew's second son, Philip Mathew, managing editor since 1 January 1989, is the highest-ranked editor.