The Week is an Indian newsmagazine published by The Malayala Manorama Co. Ltd. The magazine is published from Kochi and is currently printed in Delhi, Mumbai, Bangalore and Kottayam. According to the Audit Bureau of Circulations, it is the largest circulated English newsmagazine in India.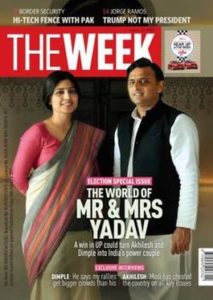 Chief Editors
The Week was launched by The Malayala Manorama Co. Ltd in December, 1982, and has had two chief editors, before the designation was discontinued.
K. M. Mathew (Padma Bhushan,1998), the founder chief editor, remained in office until 25 December 1988. Popularly known as Mathukuttychayan, he was chairman of the Press Trust of India, president of the Indian Newspaper Society and chairman of the Audit Bureau of Circulations. He died on 1 August 2010. The obit which appeared in The Times of India said, "The highly acclaimed English news magazine-The Week-was his brainchild."
K. M. Mathew's eldest son, Mammen Mathew, (Padma Shri, 2005), took over on 1 January 1989, and continued until 9 December 2007. He is currently chief editor of the Malayala Manorama daily, the group's flagship publication.
Currently, The Week does not have a chief editor. K. M. Mathew's second son, Philip Mathew, managing editor since 1 January 1989, is the highest-ranked editor.
Facts About the Magazine
The Week is the largest circulated news magazine of India with a print run of 1.85 lacs as per RNI (Registrar of Newspaper) 2015, it has a total readership of 13.01 lacs as per the latest IRS (Indian Readership Survey) 2018.
The Week has a strong following in the Student fraternity, as per the current IRS The Week is read by 4.13 lakh students as compared to 3.72 lakh students who follows Outlook.
The Week remains the most awarded magazine in its genre. We have been awarded year after year for our content by reputed organization like IPI (International Press Institute).
Awards and Accolades
•        Winner of  IPI award for excellence in journalism.
•        The only Indian magazine to be shortlisted for the final round of Daniel Pearl Award for Investigative Journalism.
•        The PR Council of India, a national organisation of over 1000 PR professionals, from advertising, the PR industry and public and private sector corporations, has chosen The Week as the magazine of the year.
•        Two Golds at WAN – IFRA Asia Media Awards 2010 for magazine cover design and in Special Issue category.
The Week comes out with 3 well researched issues every year on Education, done by Hansa Research.
As the education season kicks off, we request you to make use of the inherent strength of The Week magazine to reach out to your Target customers.