Business Standard is the third largest Indian English-language daily newspaper published by Business Standard Ltd (BSL) in two languages, English and Hindi. Founded in 1975, the newspaper primarily covers the Indian economy India and international business, and financial news and issues. The main English-language edition comes from 12 regional centres,
New Delhi, Kolkata, Bengaluru, Coimbatore, Chennai, Ahmedabad, Hyderabad, Chandigarh, Pune, Lucknow,
Bhubaneswar, and Kochi—and reaches readers in over 1,000 towns and cities across India.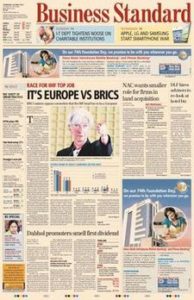 Personnel
T. N. Ninan was editor from 1993 to 2009, when he took up the editorship of The Economic Times. In January 2010, Ninan became chairman and editorial director of BSL and was succeeded as editor of Business Standard by Dr Sanjaya Baru. He was the media advisor to Prime Minister Manmohan Singh. Veteran journalist and editor Ashok K Bhattacharya took charge of the paper after Baru quit to join a UK based think tank in 2011. The paper is India's second largest business daily and employs more than 200 business journalists. The current Editor is Shyamal Majumdar.
Regular contributors to the paper include:
Bimal Jalan, former governor of the Reserve Bank of India
Subir Gokarn former Deputy Governor of Reserve Bank of India
Shankar Acharya, former Chief Economic Adviser to the Government of India
Deepak Lal, professor of economics, UCLA
Suman Bery, director-general, National Council of Applied Economic Research
Abheek Barua, chief economist of HDFC Bank
Nitin Desai, former chief economic advisor and former under-secretary general at the United Nations
Surjit Bhalla, chairman of OXUS
Arvind Subramanian, Chief Economic Adviser to the Government of India (2015-2018) professor at the Peterson Institute for International Economics
M. Govinda Rao, director of National Institute of Public Finance and Policy
AV Rajwade, foreign exchange consultant
Arvind Singhal, chairman, Technopak Advisors.
Distribution and format
Print
Business Standard sells 217,000 copies daily (English and Hindi included).
ACNielsen's survey of the upper middle class and Rich Market in India places Business Standard next to The Economic Times in total readership.
The paper has pioneered the ranking of the wealthiest Indians (the Billionaire Club) and provides an auto-mobile magazine as a free monthly supplement.
In 2006, BSL began to produce a Sunday edition that is now published in four centres.
The Hindi edition was launched in February 2008 from seven centres stretching from Mumbai in the west, running across the Hindi Belt, and to Kolkata in the east.
BSL also publishes various periodicals, including BS Motoring, Indian Management and the Asian Management Review.
Digital
The newspaper's website allows visitors to access the Business Standard e-paper, with a choice of editions. The Business Standard website receives 11.5 million page views and has 2 million unique users per month, the highest for any "stand alone" newspaper website in India.
In January 2010, it launched SmartInvestor,an information-cum-trading website for those interested in stock market (The website appears to be in beta phase six years after its launch as can be seen on its homepage).
As of June 2016, Business Standard has become first Indian newspaper with high subscription to limit access to its articles. It has also started blocking access to users who use Adblocker tool on similar lines as to what Times of India, does for its online articles. The 'Opinion' pieces, editorials and selected exclusive articles have now been put behind paywall. Since 2017, the newspaper has made a conscious shift towards monetizing its online content, the first mainstream business news publication to do so.  These articles are now accessible only using a Business Standard monthly subscription,which is available as a standalone subscription or in conjunction with The Wall Street Journal where users get discounted access to WSJ. The details of this deal between two news websites are not publicly known.
The newspaper also operates a mobile application which can be downloaded from the Google Play platform.